Steeleye Span

Title

Now We Are Six

Lineup
Mark

IV

plus David Bowie, Alto Sax on 'To know him is to love him'

Note
Variant editions exist.
Label
Chrysalis
LP
©

1/2/1974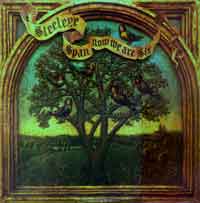 Side 1
1
Seven hundred elves
2
Drink Down the Moon
3
Now we are six
4
Thomas the Rhymer
Side 2
1
The mooncoin jig
2
Edwin
3
Long-a-growing
4
Two magicians
5
Twinkle, twinkle little star
6
To know him is to love him
The album title refers to both the sixth album, and six members, with the addition of Nigel Pegrum on drums, percussion, flute and oboe.
On the first five albums the band had lacked a drummer (apart from Dave Mattacks and Gerry Conway as session drummers on Hark! The Village Wait) and Rick in particular, who was used to working with one, had felt the strain with the sort of tunes they were now performing. When they came to tour America as opening act for Jethro Tull, they added Nigel and found he worked perfectly in the band.
After the tour with Tull, they recorded this album with Ian Anderson as 'production consultant'.
The album also features David Bowie guesting on Alto Sax. Rick Kemp knew Mick Ronson and David from Hull (and had tried out for Bowie on Hunky Dory before being replaced by Trevor Bolder). Rick knew Bowie played Sax, and so asked through a friend if he would come and play—and he accepted.
There are variant editions of this album. In particular, there are two versions of Thomas the Rhymer, one a shorter version, released as a single, and the other the full length recording.
---
Last updated: Sun, 9 Apr 16:45:56 2017 +1200