Steeleye Span

Title

Hark! The Village Wait

Lineup
Mark

I

With Dave Mattacks and Gerry Conway on drums

Label
SUAL
LP
©

1/6/1970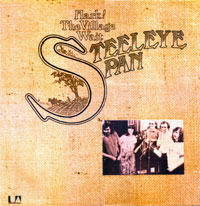 Side 1
1
A calling-on song
2
The blacksmith
3
Fisherman's Wife
4
Blackleg Miner
5
Dark-eyed Sailor
6
Copshawholme Fair
Side 2
1
All things are quite silent
2
The hills of Greenmore
3
My Johnny was a shoemaker
4
Lowlands of Holland
5
Twa corbies
6
One night as I lay on my bed
The album that started the journey.
Ashley Hutchings was so taken with English folk music after Fairport's Liege and Lief that he decided to start a new band. To quote Maddy Prior
What it finally turned out was that Terry and Gay were there, and Tyger, and so we found ourselves sitting in Tyger's back room one day with Terry and Gay, who we'd never met before—I don't think—and himself, Tyger, me, and Tim. And we thought, "this is an unlikely setup if ever there was", 'cause two duos, and one odd man out, makes a strange format. But we said, "Oh well, we'll give it a go—why not? Nothing to loose as they say."
As was then the fashion, the band retired to a country house to make the album, and then broke up without ever playing a live gig.
The album however was released and was a moderate success. The band reformed with Martin and Peter replacing Gay and Terry—and the rest is history.
---
Last updated: Sun, 9 Apr 16:45:56 2017 +1200