Steeleye Span

Title

Below the Salt

Lineup
Mark

III

Label
Chrysalis
LP
©

1/8/1972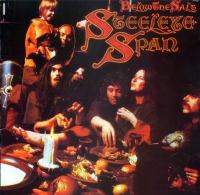 Side 1
1
Spotted cow
2
Rosebud in June
3
Jigs: The bride's favourite/Tansey's fancy
4
Sheep-crook and black dog
5
Royal forester
Side 2
1
King Henry
2
Gaudate
3
John Barleycorn
4
Saucy sailor
Ashley left, because he didn't like the overseas touring. Martin wanted to replace him with another multi-instrumentalist, whereas Tim wanted another bass player.
After gigging with the bass player Rick Kemp, the band decided to ask him to join (a decision with which Rick and Maddy's children are probably pretty happy), but then Martin left. So, Peter asked an old friend of his, Bob Johnson, to join on electric guitar and vocals—and so the third incarnation of the band resulted, and this is the album that resulted.
This album produced the band's first Top Twenty hit, Gaudate.
---
Last updated: Sun, 9 Apr 16:45:56 2017 +1200