Last modified:
Sun, 17 Mar 2019 12:16:05 +1300
Where to buy Steeleye Span stuff
One of the more frequent requests I get is where to buy the albums, as they are often unobtainable in local music stores.
I also get requests for tapes of my copies, or photocopies of the songbooks.
I'm sorry, but I won't.
Location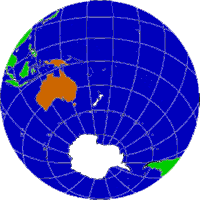 Likewise, I'm probably not much help in locating your nearest enlightened music store. I'm in New Zealand. This is about as far away from everywhere else as it is possible to be and still remain on the planet. If you look at a standard Mercator projection of the world, you will see New Zealand a little to the right and below Australia. This however doesn't really tell the full story. If for instance you take a hemispherical projection centred on Wellington (where I live), you will find that the only major land masses 'nearby' are Antarctica, and Australia. Australia is 3½ hours away by 'plane. No part of the continental United States is in the same hemisphere, nor is nearly all of mainland Asia and South America (except for Tierra del Fuego).
However, this is the web. Most of the albums have been reissued on CD and can be bought on-line over the web with a credit card. One place to start is Amazon <http://www.amazon.com>. (Just enter "Steeleye Span" into the search field).
Some of the on-line vendors are apt to pay web authors a 'finders fee' for references to their site. I have been offered such fees. I have not taken up any of the offers. That's not why any of the sites mentioned are mentioned
Steeleye Span's current record company is Park Records, and you can purchase their recent albums there. In North America, Shanachie have released most of the albums on CD, although the quality is sometimes variable.
Peter Knight has his own site from which you can order his excellent solo albums directly.
CDDB
Gracenote (formerly CDDB) is the Internet CD database. You are likely to have a CD player application on your computer that will look up a new audio CD the first time you play it and get the track listing information from CDDB. (If you don't already have such a program, then you can download one from the Internet, and Gracenote maintain a list of such players.)
CDDB is widely used. This means that there is a very good chance that any music CD will be found in it. Thus, Gracenote is a good place to search to see if a particular album has been released on CD. (Of course it doesn't help for vinyl or cassettes.)
You can also search for tracks, and see what fan web sites (if any) exist.
Having found that the album exists doesn't automatically help you find someone to sell you a copy, but it's a start.
MP3 etc.
EMusic.com sells Steeleye Span (and others) MP3s. EMusic has legitimate licences, so the artists actually see some revenue from your purchase.
The iTunes Music Store sells downloadable music in AAC format, but
iTMS is only available in some territories at present
The catalogue varies by territory—and Steeleye Span is not well represented on any of them. However, they do accept recomendations…
Videos, T-shirts, bootlegs etc.
Steeleye Span have appeared on various TV and radio shows, there have been promotional pictures, posters, T-shirts, etc. Again, I'm sorry but I can't help you there. There are some VHS/DVD videos available from Park Records, Amazon and others, but I don't even know where you'd start looking for the rest.